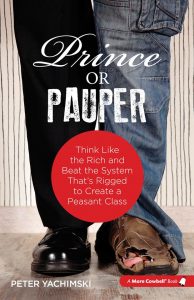 Wealth and Personal Fulfillment through Unique Education
"Prince or Pauper – Think Like the Rich and Beat the System that's Rigged to Create a Peasant Class".
This first book in our educational series is focused on opening your eyes to the realities of how our economic system works. It is a "splash of cold water" that will awaken you to not only the perils that are built into the system, but will also make you keenly aware of the opportunities that await you to enhance and enrich your life, as well as create lasting wealth and happiness for your family.
This book offers a fresh look at your philosophy of life. With 13 clear, concise and straightforward lessons that are designed to create in the reader a fertile environment to recognize and take advantage of opportunities that are presented each and every day.
Every reader can either change or enrich their lives with the proper education and perspective.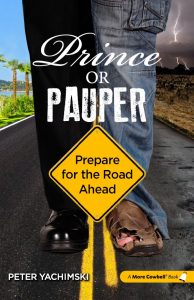 This book contains specific and critical information for people in three circumstances:
1 – Those in or near retirement
2 – Those still working to create a future for themselves and their families
3 – Those who may have fallen on hard times and are desperately trying to dig out of debt
Now Available!
"Prince or Pauper – Prepare for the Road Ahead".
This second book in our series is set to be released in the 4th quarter of 2017.
In this book, Peter M. Yachimski outlines specific tools that can make a huge difference in your perspective and financial strategies. Topics include:
How to make gains in your retirement portfolio after you start making withdrawals by using the principles of "reverse" dollar cost averaging.
Why our national debt demands that you take control of your own future – and how to protect yourself when the house of cards collapses.
Why Medicare and Medicaid are in crisis – and a unique strategy to hedge against rising taxes or falling benefits that could threaten your savings.
Government legislation that you should be aware of so that you can protect your assets in an environment of extreme risk.
How to use the laws governing the banking industry to your advantage when negotiating with creditors if you make a mistake.
This book will help you "Think like the Rich" at a higher level.